AlphaVerse: A Metaverse of Many Universes Creating a Unique User Experience
Not all metaverses will be created equal. One metaverse will be an entry point for all the others. We call it AlphaVerse, a metaverse of different universes. What will make…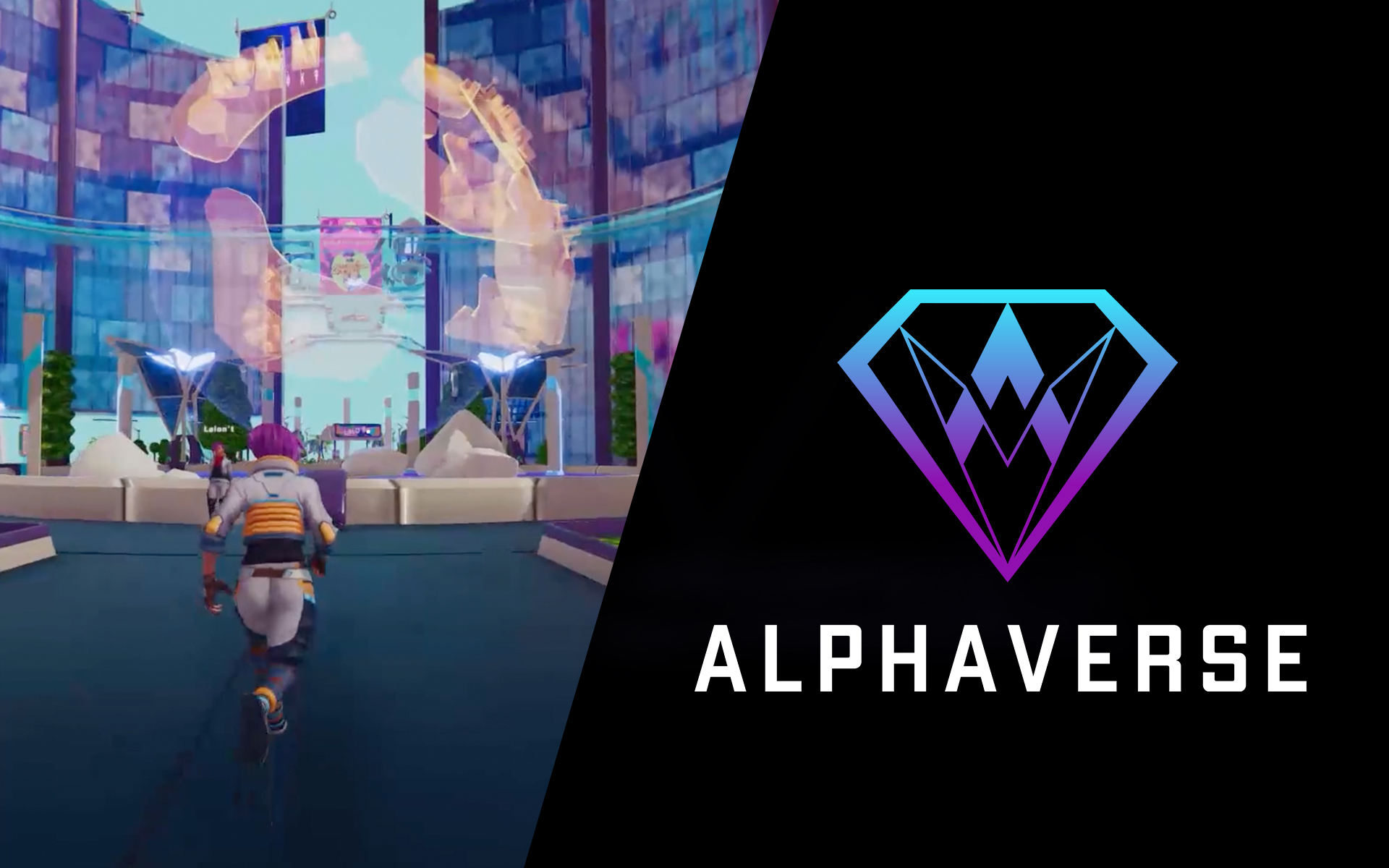 Not all metaverses will be created equal. One metaverse will be an entry point for all the others. We call it AlphaVerse, a metaverse of different universes.
What will make Alphaverse a metaverse above all others? Read on…
AlphaVerse: A Universe of Universes
When author Neal Stephenson coined the term "metaverse" in his 1992 sci-fi novel "Snow Crash," he envisioned lifelike avatars who met in realistic 3D digital reality environments. Today, that vision is coming to life as we see the next evolution of digital reality taking life.
And as more metaverses come on the scene, it is quickly becoming apparent that how these digital reality environments are built is what will set one metaverse apart from another.
That's what sets AlphaVerse apart. AlphaVerse is the first metaverse on the blockchain to move beyond a single-universe experience by combining many different universes. Each of them offers a different look and feel and a different experience for the user.
It's literally a universe of universes.
Some universes are fully developed and operated by AlphaVerse. Others are developed and operated by third parties. Players can move seamlessly from one universe to another, using the same username and wallet.
Connexion, interoperability, diversity, and power to the community are the DNA of AlphaVerse.
Founded by Frédéric Chesnais, former Chairman-CEO of flagship gaming company Atari and released by the French games, technology, and blockchain product developer Crypto Blockchain Industries (CBI), AlphaVerse is designed to offer a unique, immersive experience to users. It provides a diverse experience that leverages the power of the gaming community to develop user-generated content (UGC). A network of developers is working on connecting as many blockchain-based games as possible.
The AlphaVerse ecosystem will be complex and include Learn to Earn, Create to Earn and Play to Earn mechanisms — allowing everyone to participate. In a bit, we'll take a peek at the many universes you can experience in AlphaVerse. So, first, let's discover where every experience begins, the AlphaVerse Hub.
The AlphaVerse Hub
AlphaVerse has a central hub from which players can connect to multiple digital universes, similar to neighborhoods. Think of it like landing in Grand Central Station in New York City… just bigger!
Inside the Hub, users can create, customize, and upgrade their avatars. They can also purchase, rent, or build a home in the Hub and choose to make it private or public. All real-estate assets available are NFTs and can be sold in the AlphaVerse marketplace.
Ready to explore?
Walk outside the Hub station and it's like stepping into a vibrant, bustling city with endless options for entertainment. Meet up with friends at your favorite hot spot where you can chat and hang out. Walk the streets and explore buildings where you'll find mini-games and activities. Head to the cinema and you can watch a movie. Or spend time hopping in and out of the many shops where you can buy and trade NFTs.
Want more? The Hub has it!
Teleport into one of the many districts in the Hub, such as Chinatown or Little Italy, for diverse cultural experiences.
Or perhaps you want more of a thrill. The Hub has that, too!
Head over to MetaCoaster to enjoy the amusement and roller coaster park experience and build your own thrill ride. Or head to the stadium to watch a soccer game or a live music event. Or perhaps mech battles or horse racing is your thing. It's all in the Hub!
The Hub will provide endless opportunities for users to enjoy unique and diverse experiences. Plus, it's from the Hub that users can take journeys into the many universes that are part of the Alphaverse.
The AlphaVerse Universes
As we mentioned earlier, what makes Alphaverse unique is its ability to connect users to many different universes.
Each of the universes inside AlphaVerse will offer a unique digital experience and incorporate the ecosystem that allows residents to Play-to-Earn, Create to Earn and Learn to Earn. This includes creating and selling NFT and crypto assets and applications.
Let's look at some of the unique universes you can explore inside Alphaverse.
MetaCoaster by AlphaVerse
MetaCoaster is a roller coaster game on the blockchain. Its play-to-earn economy allows you to build fully customized amusement parks. You're fully in charge of managing the parks. You can build or demolish rides, adjust the terrain and scenery, and choose the locations of rollercoasters, rides, and restaurants.
The most valuable assets in the game can be acquired, upgraded, and sold as NFTs.
In the MetaPark mode, a solo mode, your goal is to progress through different parks, starting with a small park and upgrading to a large park. We give you the land, and your goal will be to make your way up, grinding, earning or buying NFTs.
The MetaWorld is a multiplayer mode where your goal is to develop the value of your land. You purchase land and develop your amusement park. AI-driven visitors called 'Metapeeps' will visit your park. Depending on the quality of your park, they will spend more or less tokens in your park. To make sure no one is at any disadvantage, every plot of land has a similar number of subway entrances, from where Metapeeps can enter or exit.
Beat by AlphaVerse
Beat Universe is all about music… and giving back!
Built around renowned DJ and music producer David Guetta and the "United at Home" charity program, the Beat Universe offers unique games, experiences, and a community centered around dance music. Inside, you'll have access to exclusive content, rare NFTs, and you can enjoy music events and direct interactions with today's music stars.
HorYou by AlphaVerse
The HorYou AlphaVerse will focus on the environment, health, digital and social innovations, arts and culture, and other charitable activities geared towards the betterment of society. The universe is developed in conjunction with HorYou; a social network focused on social good and positive actions.
Plans are in place to implement LIGHTS — a cryptocurrency that can be used within the Horyou universe for its numerous future social activities.
These activities will aim to foster inspirational and conscious behaviors, including philanthropic and sustainable projects that focus on global causes defined within the 2030 Agenda of the United Nations — the Sustainable Development Goals. These digital tokens, when used, will return a set amount of value (called "Proof of Impact") back to the Horyou Foundation. This will help to fund its social responsibility efforts.
With the LIGHTS utility token and the HorYou Alphaverse, the digital revolution to build a more harmonious future is underway!
Artech by AlphaVerse
The Artech AlphaVerse will focus on digital arts and artists. It will present the Raverse digital Art collection made up of artworks representing the genesis of digital art created in the early 90s. In this universe, users will be able to watch, share, play, collect or exchange NFTs, remix the Raverse collection, and show, share, sell and collect these remixes.
Users will be able to visit the exhibitions, interact with digital art museums, and submit their own digital artworks. Once a year, users can participate in an event dedicated to Digital Art and electronic music organized by the Artech AlphaVerse.
Chi Modu by AlphaVerse
Chi Modu is the iconic photographer who shaped rap music's visual identity with his images of Notorious B.I.G., Tupac Shakur, Dr. Dre, and other 90's rappers. The Chi Modu AlphaVerse will showcase a museum with elements curated by Sophia Modu, Mr. Modu's widow. In addition, fans will be able to create their own world. They can buy and decorate flats and houses, and create digital neighborhoods and communities.
Rave-Age by AlphaVerse
The Rave-Age AlphaVerse is devoted to the rave and electronic music community, its history, key figures, and the latest industry news. Visitors to the Rave-age AlphaVerse will be able to watch videos, collect NFTs, and share experiences and content relating to rave culture and electronic music. Players will be able to organize artistic events, such as festivals, concerts, and exhibitions around rave culture and the electronic music community.
Apex by AlphaVerse
Apex AlphaVerse is a metaverse-powered digital animal sanctuary where you can buy digital artworks (NFTs) of powerful animals, both living and extinct. Recently, Apex Predators sold 1,000 animal NFTs. We are planning a land sale to allow crypto-enthusiast to purchase locations within the Apex AlphaVerse. Landowners will be able to construct homes, sell NFTs, or create "packs" of like-minded Apex Predator buyers.
Plans are in place to add more and more universes to the AlphaVerse. This will create an absolutely unique and robust experience for every player. Join the AlphaVerse newsletter to be the first to know about new universes that are coming. We have special offers within the AlphaVerse, and NFT giveaways too.
Become a Citizen of the AlphaVerse
As you can see, the AlphaVerse will have something for everyone. Whether you're a gamer interested in gameplay, a creator interested in creating NFTs to sell, a musician wanting to share your gift with the world, an Influencer looking to grow your community by offering unique experiences, or just someone interested in experiencing digital reality at its finest — the AlphaVerse is for you.
The AlphaVerse is scheduled to launch in the summer of 2022. We hope you'll join us!